DWG to PDF
DWG FastView allows you to convert DWG to PDF or vice versa as well as other common formats mutual conversion, online or with client program(Mobile & Windows). And it is free. Now there are following supported format conversion:
Click what you need on the left navigation to start your conversion or download DWG FastView to do it on Windows or mobile phone or directly on web.
Steps for exporting to PDF:
1. Clicking "Export" icon,and select "Export to PDF";
2. Enter file name;
3. Specify the file saving location;
4. Select paper size or default;
5. Select paper orientation or default;
6. Select color or default:
7. Select export extent or default;
8. Check "Fit to paper" or default;
9. Enter scale or default;
10. Click "Export" to finish.
How to export a drawing to PDF with DWG FastView for Web?
You know we have DWG FastView for Windows, for iOS, for Android as well as for Web; the easiest way to use DWG FastView is what?
The answer is DWG FastView for Web, as long as you have browsers, it will be enough, any browsers, such as Chrome, Safari, Firefox and Microsoft Edge...
When you visit our official website, you can see following: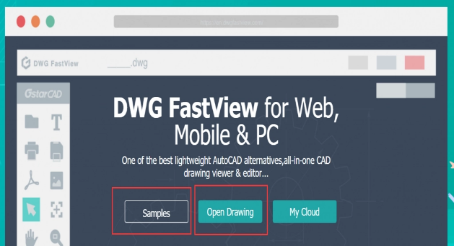 Click Samples, you can view some drawings online; click Open Drawing, you can view your own drawings on your local computer. Look at below: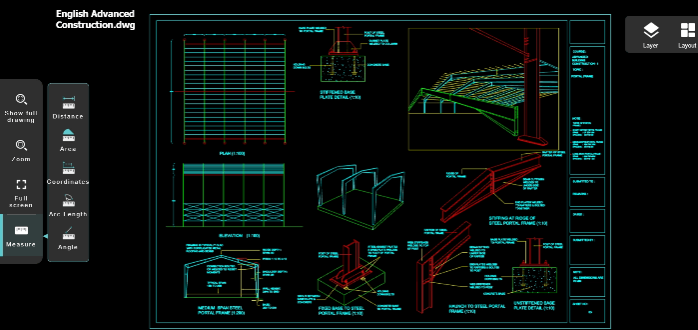 On the left, there are Zoom in and out, measure features and on the top right corner, there are layer and layout.
Do you think that is all? Never, don't look down up DWG FastView for Web.
If you open a drawing from My cloud or your local computer, you will see a lot of more features like below: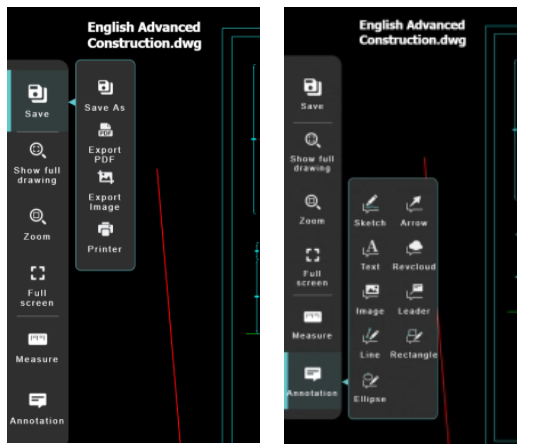 To use this feature forever and unlock all advanced features of DWG FastView and use it on Windows, mobile & web, please upgrade your account!